You may have noticed that people who love to fish, really love to fish. When questioned about their devotion to the sport, many anglers recite a long list of positives. And the foremost reason isn't necessarily the quantity or size of their catch. Stress relief; social bonding; the challenge; being with nature; family tradition; giving back to the environment — these are just a few reasons people become lifelong fishing devotees. Of course, fishing for food has been around forever, but catch and release sport fishing has grown in popularity in the last 50 years with rising awareness of conservation practices. The Virginia Department of Game and Inland Fisheries' list of reasons people love to fish includes the fact that monies from licenses and taxes contribute to wildlife and conservation programs, and also to the overall economy by supporting thousands of jobs. In 2015 alone, fishing license sales generated more than $700 million across the country. Fishing is enjoyed by people of all ages, genders and socioeconomic levels.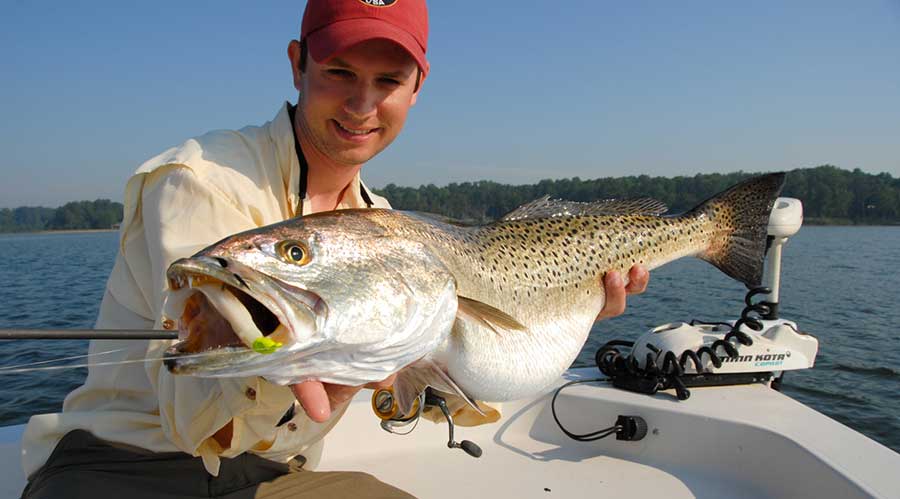 Fishing From An Early Age
Chris Newsome has spent his entire life fishing the waters of the Chesapeake Bay and its tributaries. His father got him out fishing as soon as Chris could hold a rod, at the age of 15 months. Today he is Captain Chris Newsome, owner and operator of Bay Fly Fishing, a fishing charter business based in Mathews County. Growing up, the water was his playground — specifically the Piankatank River, which flows between Mathews and Middlesex counties. Chris calls it a "nice river" given its quick access to the Bay and because it has some varying elevations. The headwaters, called the Dragon Run, is a freshwater cypress swamp where large mouth bass, pickerel and blue gill are plentiful. As you work your way down to the mouth of the river you'll find saltwater fish, like bluefish and speckled trout.
Many men go fishing all of their lives without knowing that it is not fish they are after." —Henry David Thoreau
During the fishing season, Bay Fly Fishing runs two daily fishing charters (at sunrise and sunset) seven days a week, for individuals or groups of up to four people. All ages and skill levels are welcome. Chris also offers fishing lessons. He will supply all the equipment you need — including a fishing license — or you can bring your own rig. In addition to his mastery of fishing, Chris has an education in marine biology and has worked as a consultant for state and federal agencies in habitat restoration and other eco-conscious projects around the bay. His knowledge and passion for the environment and the Chesapeake Bay add an element of ecotourism to his charter experience.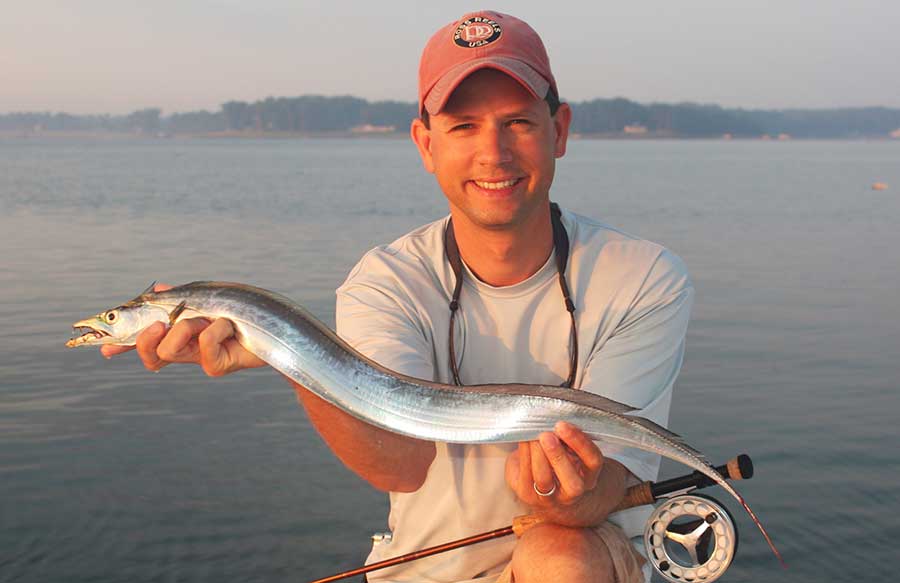 Different Fishing Techniques
Trolling and bottom fishing are two recreational fishing methods popular on the Chesapeake Bay. Trolling uses heavy rods that are placed in holders while the boat moves forward. Bottom fishing uses a two-way rig that has a wire line with two hooks and a sinker. The rig is baited and the line is dropped over the side of the boat, and you wait for the fish to bite.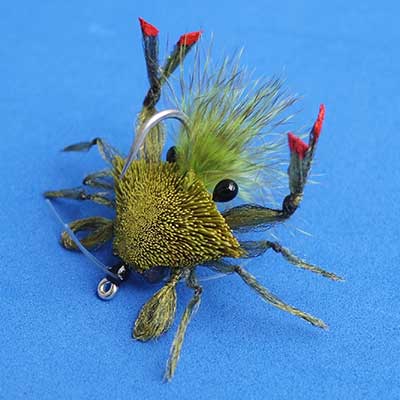 Light tackle and fly fishing methods — Chris' specialities — are a more active style of fishing where you're casting and retrieving lures and flies, using a fly rod or light spinning rod. A typical 7-foot spinning rod is in the four to ten pound classification range. Such light equipment adds an extra challenge and thrill when fighting a trophy fish. "Our lures and flies imitate bait fish, so the fish we're targeting are predatory fish," says Chris. "The main fish we catch are striped bass, commonly known as rockfish in the Chesapeake Bay." Other species include speckled trout, redfish, flounder, Spanish mackerel, cobia, bluefish and more.
Think Like A Fish
The name of the game is finding locations that will attract the fish you want to catch. Most of the bay is sand and mud bottom. The goal is to find shallow water structure — havens that attract and harbor a variety of species, such as rock piles, old pilings, oyster reefs, and grass flats. Chris knows how to find such habitats. Little crabs and small bait fish are drawn to these areas to feed on plankton and algae, thereby attracting the game fish to come in and feed. A perfect example of the food chain.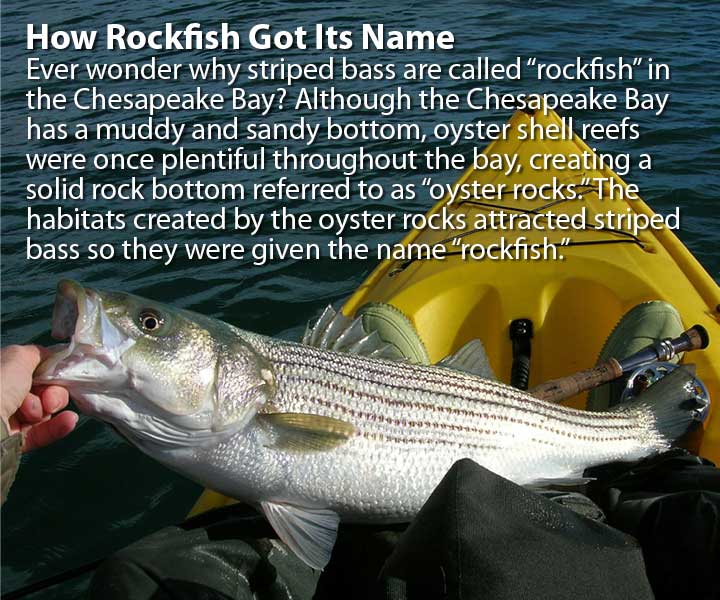 When Are Fish Biting?
The fishing season varies on how quickly it warms up in the spring. You can catch fish year round, but prime fishing runs mid-June to early November. The majority of Chris' clientele are into catch and release sport fishing and are out on the water to enjoy the scenery and the challenge, but they are more than welcome to keep their catch limit of fish. Fishing regulations change from season to season and the most current regulations for Virginia are listed on the Virginia Marine Resources Commission website.
There is no short supply of stunning places to cast your line in the Chesapeake Bay, whether from a boat, a dock or a beach. Most of the fun of fishing is spending time with friends and family, and sharing your latest fishing story. For sport, fun or food, it's easy to get hooked on the love of fishing.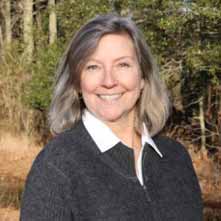 Written by Carolyn August for Rodgers & Burton –
Carolyn is a writer and designer who has been working in the communications field for over 25 years. She will take on any topic to research and write about, and especially enjoys taking complex subjects and making them easy to understand. Often called a "renaissance woman" by her friends and colleagues, her many creative passions include writing, ceramic arts, music, fiber arts, gardening and winemaking. She and her husband share their Virginia farmhouse with two dogs, one cat and a pair of bald eagles who nest in their woods. When not creating, Carolyn prefers to be paddling on the waters of the Chesapeake Bay.