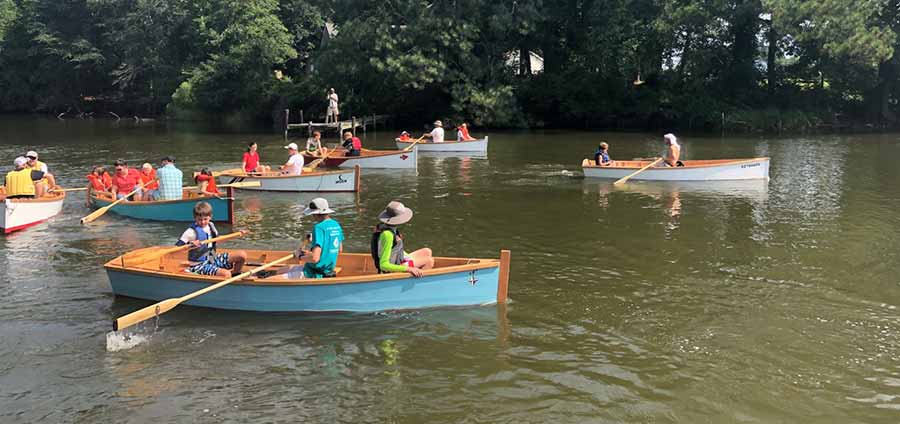 A couple of hundred years ago we wouldn't be talking about wooden boat building as a romantic endeavor. At that time — before the invention of fiberglass — building a boat with wood was the only option. Although fiberglass hulls are now the norm, there's just something about a wooden boat that captures the heart. A wooden boat is where function and beauty intersect. Straight lengths of wood are transformed into graceful curved lines — bounded by ribs, knees and beams — resulting in a functional piece of handcrafted art that can be used for fishing, crabbing, transportation or recreation. Today, the captured hearts of wooden boat enthusiasts have a two-fold mission: to keep the appreciation alive, and to ensure that wooden boat-building skills are never lost.
The Chesapeake Bay region has a rich history of wooden boat building. For hundreds of years, watermen made their living in craftsman-built wooden boats using hardwoods harvested and hewn from the coastal land. The "lost arts" of wooden boat building and preservation are being kept alive by schools, workshops and museums throughout the bay region, devoted to preserving existing wooden vessels while providing exhibition programs about these fading maritime skills. These efforts are supported by thousands of wooden boat enthusiasts of all ages and skill levels, from novice to expert, many who volunteer their time and expertise to the cause. It's safe to say that wooden boat-building fever is alive and well.
One such organization dedicated to maintaining wooden boat building and bringing maritime history to life is The Deltaville Maritime Museum, where volunteers actively build, restore and maintain historically accurate vessels. The museum features an ever-changing lineup of exhibits and events with special emphasis on activities relating to the boat-building industry and the lives of those affected by this industry.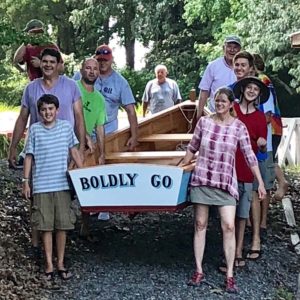 In keeping with the museum's further mission to ensure the future of wooden boat-building skills, they host an annual wooden boat-building workshop open to anyone interested in learning the craft. The week-long workshop has been offered every summer since 2003 and is limited to 10 groups. All ages and skill levels are welcome. It's called the "Family Boat Building Week" and family groups, scout groups, church groups, etc., come to the museum from near and far. Each group pays a workshop fee and will build a Wright Skiff similar to the skiffs John Wright built in Deltaville in the 1930s. Both 12- and 14-foot skiff kits are available. The 14-foot kit is the most popular, but the 12-foot boat offers the added bonus of being able to fit in the bed of a pick-up truck, eliminating the need for a boat trailer. The boats are made with solid cypress and fir woods. The kit includes all the materials needed to build the skiff, and a workspace on the museum grounds and all necessary tools are provided. Experienced volunteers are on hand to offer guidance — as much or as little necessary — and guarantee that your boat is complete in time for the big race on Saturday as the workshop comes to a close.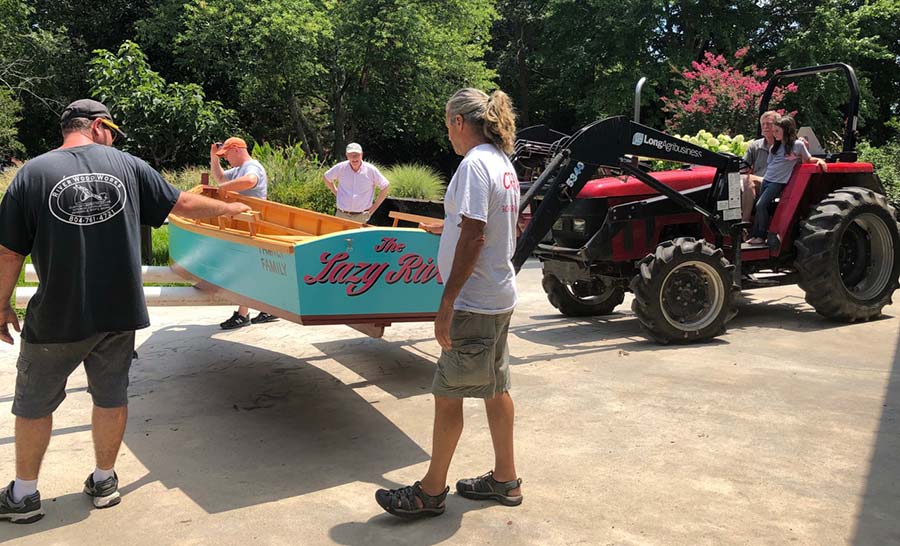 John England, the museum's boat shop director, said it takes many volunteers working throughout the year to make this week-long event happen. "We pre-cut most of the wood, but leave some cutting for the participants to do. We give them as much or as little assistance as they need to complete their boats by the end of the week," he adds.
The boat-building week begins with an orientation on Sunday. On Monday morning the boat building begins in earnest, and by Friday the final coats of paint are drying and boat names are in place. Friday afternoon the boats are lowered into the water so that the wood can absorb water overnight and swell to fill the gaps between the boards, allowing the boats to float. The final excitement begins Saturday morning with the Great Skiff Race where all of the newly made boats make their maiden launch on Mill Creek and compete for a variety of prizes and awards. After the race the workshop ends with a fish fry feast and celebration before everyone departs with their skiffs.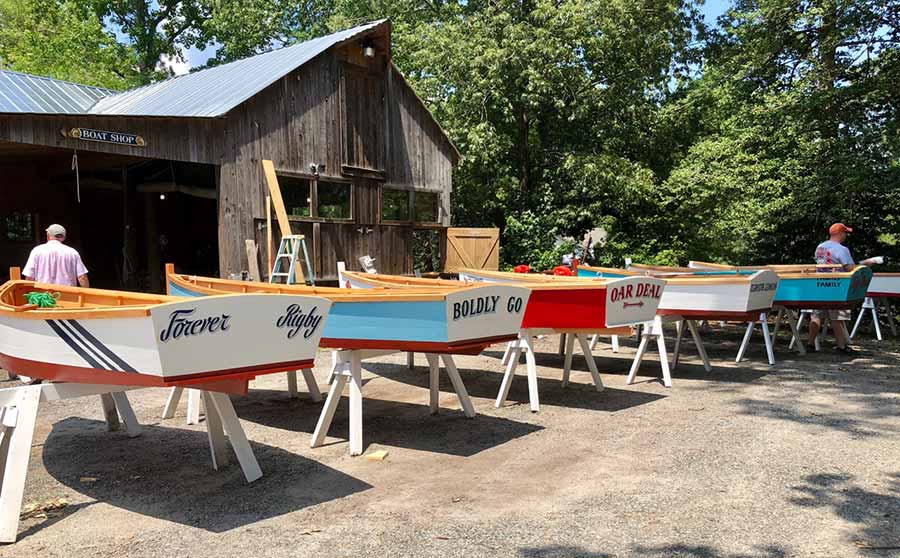 The Deltaville Maritime Museum and Holly Point Nature Park is located in Middlesex County on Mill Creek, just off the Chesapeake Bay in the heart of Deltaville, Virginia. The museum is the home of the nationally registered buyboat, "F.D. Crockett" and home of the John Smith replica "Explorer." The park and museum occupy 36 waterfront acres and offer woodlands, a children's garden, walking trails, a landing for launching kayaks, canoes and paddleboards, and a waterfront living shoreline with picnic areas. Leashed pets are welcome and the park is open daily from dawn to dusk. Other events taking place throughout the year include an Easter egg hunt, a farmers market in the warmer months, a summer concert series, art and seafood festival, oyster roast, halloween and holiday events. The facility is available year-round to rent for private events.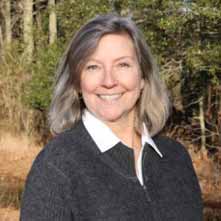 Written by Carolyn August for Rodgers & Burton –
Carolyn is a writer and designer who has been working in the communications field for over 25 years. She will take on any topic to research and write about, and especially enjoys taking complex subjects and making them easy to understand. Often called a "renaissance woman" by her friends and colleagues, her many creative passions include writing, ceramic arts, music, fiber arts, gardening and winemaking. She and her husband share their Virginia farmhouse with two dogs, one cat and a pair of bald eagles who nest in their woods. When not creating, Carolyn prefers to be paddling on the waters of the Chesapeake Bay.