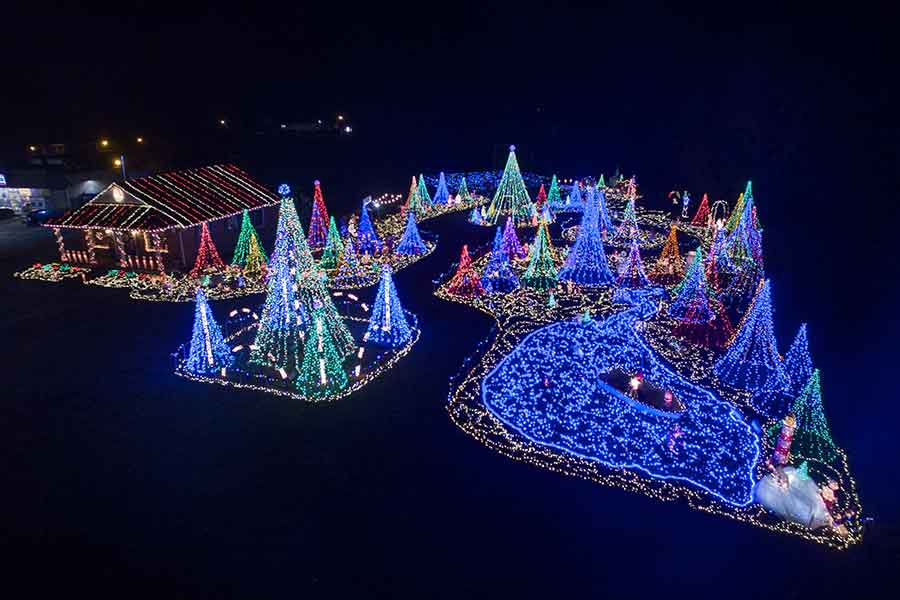 Driving down route 33 General Puller Highway after Thanksgiving you can see the start of the Holiday Season in Deltaville.
Decorations and lights start to appear on the Mason Realty Building. More and more appear as the days go by. Then little by little the night comes alive with light. The building is outlined and Snoopy is flying high. Lighted trees appear one by one. The fishing boat makes its grand entrance, with a fish on the hook. New LED blue lights are now in place making the boat look like it is on water. The iceberg is taking shape and well, Christmas music is in the air.
This means that Stephen Blue is working his magic to make "Christmas in Deltaville" something special.
It started back in 1996 when he was 12 years old. Inspired by the movie, "Christmas Vacation", he started off with 700 lights and now, 16 years later he is up to over 80,000 lights with computer animation.
With the help of J and W Seafood lending the display some electricity and extra loving labor from his mother and father, the light show has made its grand debut this past weekend. Turn to 100.9 fm on your radio when you stop by to see the lights and it will make your spirits bright.
Visit Stephen's website at www.deltavillelights.com, to see the history of this really beautiful Christmas light display and how it has evolved into what you see today. This is truly a holiday tradition here in Deltaville.
Happy Holidays!!
Neena Rodgers