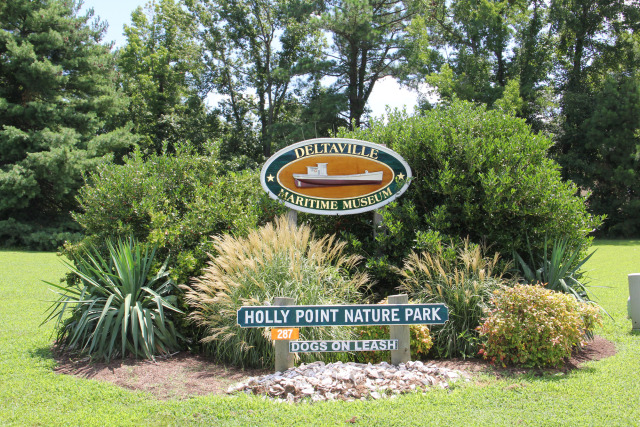 Boating and fishing has always been a part of the heritage in Deltaville. The Deltaville Maritime Museum is dedicated to preserving the boating heritage of the waterman that have for scores of years made their living and, and supported their families, on the Chesapeake Bay and its shoreline. This lovely museum is easy to get to, just off the main road, General Puller Highway, on Jackson Creek Road at the Holly Point Nature Park.
Special events offered include a summer boat-building family week, arts camps and workshops, and a summertime farewell seafood festival in October. Other events include summertime farmers markets, a "Groovin' in the Park" concert series, and a reenactment of Captain John Smith's landing at Stingray Point. Of special note is the F.D. Crockett , a classic log-hulled buyboat recently designated a Virginia Historic Landmark and named to the National Register of Historic Places moored at Holly Point Nature Park and Museum.
The museum and park is made up of 38 acres of waterfront property, which includes walking trails, the museum building, out-buildings for boat building, gardens and nature exhibits. There is also a boat launch, perfect for launching kayaks and other small boats.
In mid-July 2012, the museum was devastated by a fire which consumed the building and all of its contents – taking with it not just items, but history – a history so very important to the people that call Deltaville home, as well as to the many waterman on the Bay coast that even to this day make their living fishing and crabbing on the Bay. Only a few significant items survived the fire. Fortunately, no one was injured in the fire. The overseers of the Museum are determined to rebuild, and the park remains open for visitors to enjoy the activities and support the museum for the remainder of this season. Volunteers and donations are being accepted: email: museumpark@verizon.net.
The Museum and Park are run by the loving community members and volunteers. Another wonderful example of the spirit of this marvelous waterfront community. In fact, it is a fitting tribute to the newly acclaimed "Deltaville is the boating capital of the Chesapeake Bay".
The park is open from dawn until dusk during their peak summer season, with limited hours during the September-May months. Find them on the web: www.DeltavilleMuseum.com Location: 287 Jackson Creek Road, Deltaville, VA 23043, Phone: 804.776.7200.