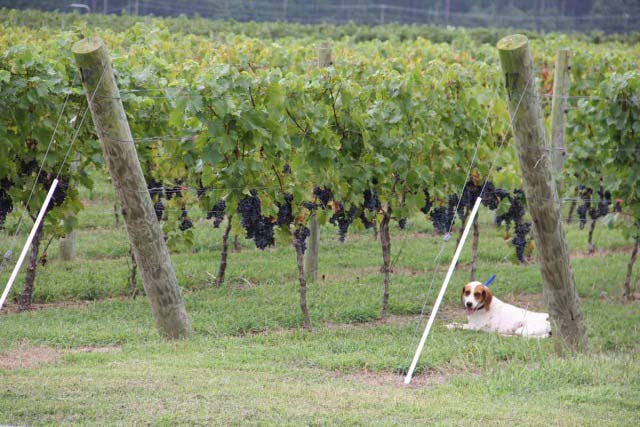 The Dog and Oyster Vineyard was voted one of the "Top 10 Coastal Inns in the US" by Coastal Living Magazine in 2012. It is a charming little vineyard located in Irvington, Virginia on the Northern Neck.
Residents to the vineyard include several rescued hound dogs that patrol the grounds . They usually can be found resting in the shade of the grapevines. These wonderful dogs help keep the local deer out of the vineyard and from eating the tasting grapes before they can be harvested to make their extraordinary wines.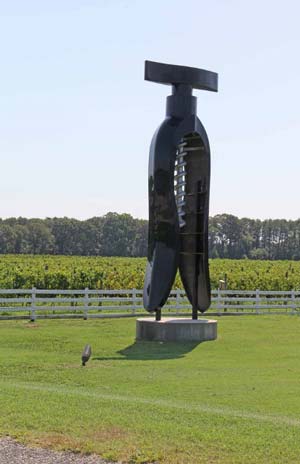 The Dog and Oyster Vineyard is home to the "world's biggest corkscrews". A pair of corkscrews 40' tall, stand at the entrance to the vineyard.
By most standards, this is a small vineyard, with only six acres. They grow just four grape varieties, offering two white and two red wines. From the entrance you will see the wine stand, where samples of the wines can be enjoyed.
Another wonderful feature of the vineyard are the "Tents at Vineyard Grove" part of the Hope and Glory Inn experience — lovely 3 bedroom, 3 bathroom private cottages which one can rent instead of staying at the Inn itself. The nearby Hope and Glory Inn, a popular country style inn which plays host to weddings and events.
The Dog and Oyster Vineyard is just one more reason to visit Virginia's Northern Neck and Middle Peninsula, where you will enjoy the fresh air and picturesque views as you drive along through the rolling countryside.
Visit them online at www.HopeandGlory.com , or call 804-438-WINE to make a reservation today.