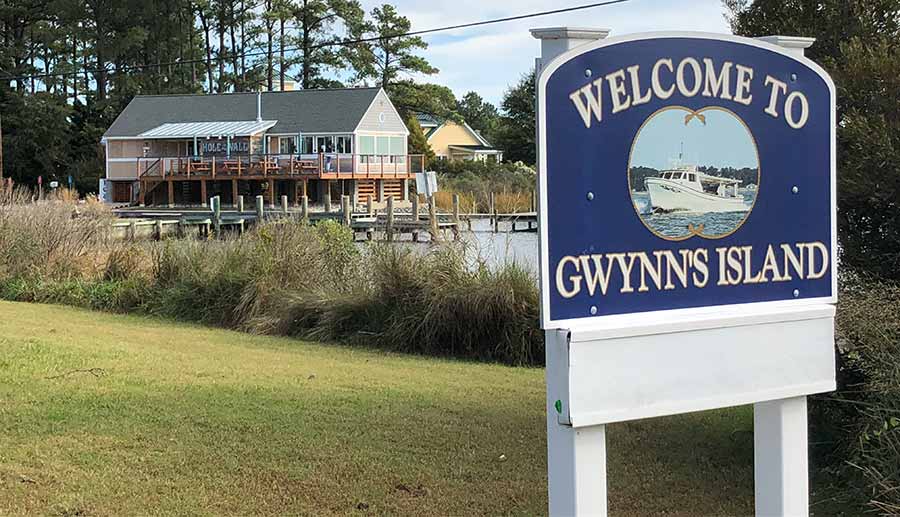 Whether by car or by boat, as you arrive on Gwynn's Island, you'll find a special restaurant called Hole in the Wall Waterfront Grill. It's named after a spot in the Chesapeake Bay directly off Gwynn's Island near Sandy Point.
Casual Dining with a Water View
The best seat in the house is probably outside — atop the deck on a sunny afternoon where you can drink a beer, enjoy a meal, watch passing boats and view the occasional bridge opening. But it's cozy and inviting inside the Hole in the Wall, too. This casual, dining spot has plenty going for it – including a design that makes the most of its location. With three sizable picture windows on the front and windows along both sides, almost everyone has a water view. The wall covering includes antique boards salvaged from an old barn and chicken coop in Gloucester with the bar's clean lines constructed from the reclaimed metal roof.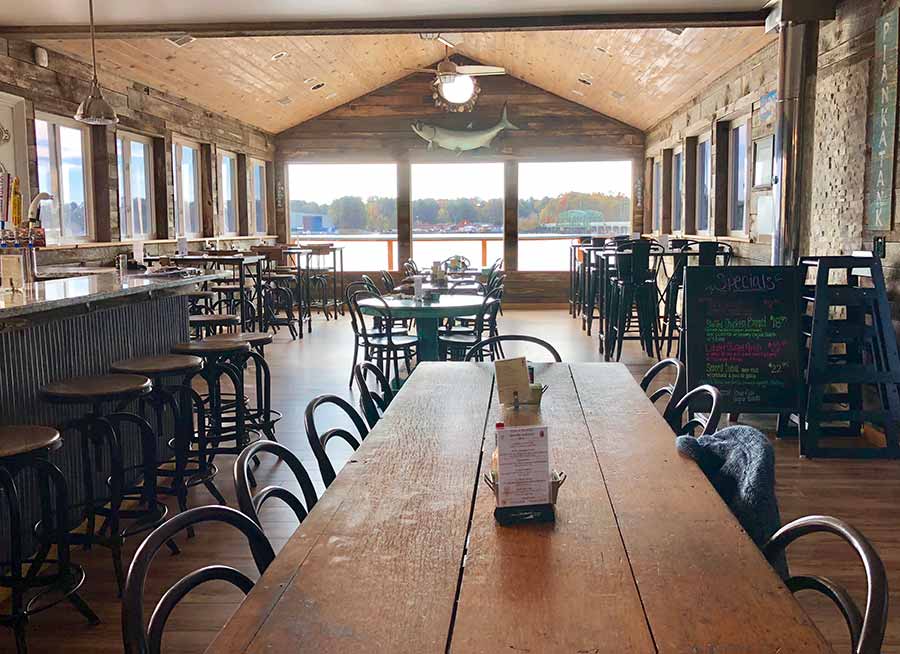 In colder months, a wood stove by the doorway warms customers and promotes a bright and comfortable lived-in feeling. Whether seated at the long, communal wood table near the door, at a window-side tabletop or on a stool at the nearby bar, the kitchen is open to the dining room, so executive chef Heather Minter, and her staff can easily interact with customers. Formerly the Seabreeze restaurant, the structure was raised 9 ½ feet to remedy past flooding issues. The side windows were lowered to widen the view and a large deck added — all while still retaining the original character of the former eatery.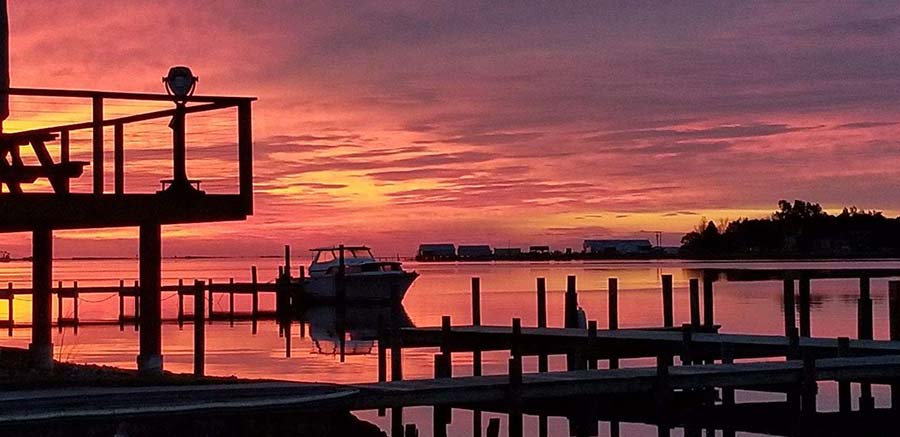 Dock & Dine in Mathews
Mac Casale, owns the business along with his partner, Dean Tsamouras. He also owns The White Dog Bistro, a fine-dining establishment in Mathews, with his wife, J.C. Casale. He says the Hole in the Wall appeals to locals and tourists alike because it's casual and currently the only waterfront restaurant in the Mathews County area giving boaters the opportunity to "dock and dine" using one of their 9 slips. The demand for such a restaurant was bigger than they anticipated with hundreds of patrons thanking them for opening a restaurant where boaters can arrive by water.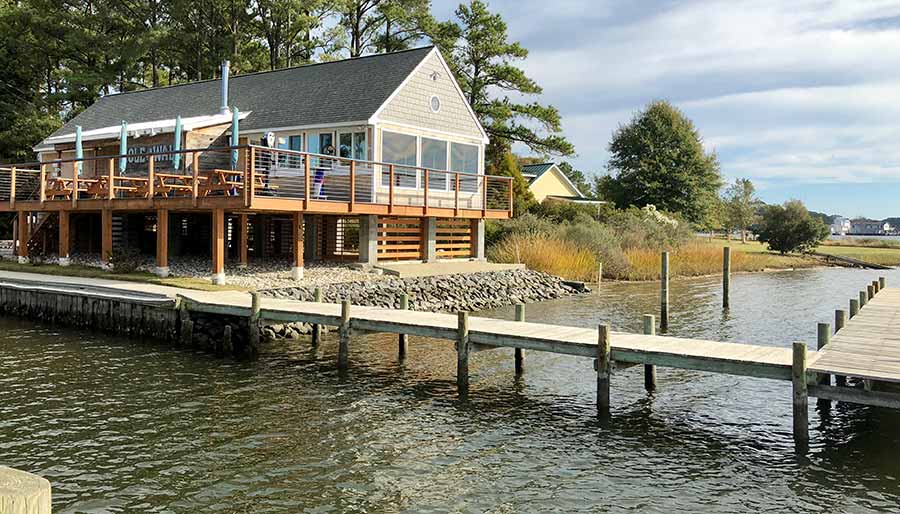 Chef Minter, a Mathews native and former sous-chef at the White Dog Bistro, enjoys the teamwork involved with running a restaurant in her home town. The menu that she and the owners developed displays a sophisticated style with daily specials that today included Lobster Stuffed Ravioli, Stuffed Chicken Breast and Seared Cobia over rice. The offerings change seasonally but some of the most popular include a crab cake sandwich for $12.95, shrimp tacos for $8.95, burgers starting at $7.95 and a raw bar ranging from a half dozen oysters for $8.95 and a steamed seafood sampler for $21.95. Additional Brunch items are added on Sundays.
During the Fall/Winter season, they are open every day except Wednesdays for lunch and dinner from 11:30am until about 7:30pm. You can visit them online at holeinthewallwaterfrontgrill.com or follow them on Instagram @hitwgrill.
Written by Pat Rabb Zulick for Rodgers & Burton –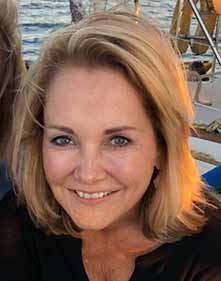 Pat is a graduate of Simmons College with a BA in Communications/Public Relations. Her more than 35-year career in Northern Virginia included 25 years in technology with IBM/Siemens as a Software Designer, Engineer/Developer and Senior Instructor for Sales and Systems Engineering. Her remaining 10 years were devoted to alumni relations work at George Mason University and lastly at American University. Since moving to Deltaville in 2015 and retiring in 2017, Pat enjoys working out and volunteering as a board member for the Deltaville Maritime Museum. She is also an avid member of the Tidewater Oyster Gardeners Association where she volunteers at fairs to encourage oyster gardening and aquaculture to help clean the Chesapeake Bay.