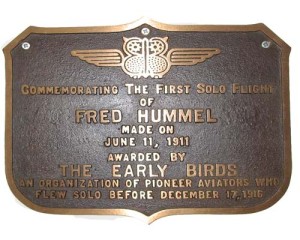 Created in 1925 by Fred E. Hummel, the site was donated to Middlesex County in 1970. Known then as Hummel Airport the facility originally was aimed at encouraging outdoor recreation, such as fishing , in the area near the town of Topping.
Fred E. Hummel
Fred E. Hummel (1896-1975) is known as one of the" Early Birds of Aviation" and a pioneer in the field. Flight became an obsession for him when he was a teenager in his native Milwaukee, Wisconsin.
Using plans drawn up by the famous Glen Curtiss, young Hummel spent a year building a glider. His first flight was from a cliff overlooking Lake Michigan in June 1911. The flight , which ended on a sandy beach below the cliff, earned him a spot in the "Early Birds of Aviation". Membership was limited to those who piloted a glider, gas balloon, or airplane, prior to December 17, 1916. The cutoff date was set at December 17 to correspond to the first flights of Wilbur and Orville Wright.
In 1974, Fred Hummel was featured in the Richmond News Leader. To qualify for membership, his said in this elite group of "Early Birds", you have to have flown sometime between the years 1903 and 1916 and flown at least 250 feet. Fred Hummel stated he had made the distance because the cliff he flew from was 300 feet high from the beach below.
Hummel purchased a summer home on the Rappahannock River in Middlesex County, in the early 1920's. This lead to the creation of Hummel Airport in 1925. His wife was also an accomplished aviator in her own right and frequently flew her family from Hopewell to Topping. Mrs. Hummel was the first women to receive an Air Transport rating, among the most difficult and demanding ratings a pilot can earn.
It is also the site of the Annual "Wings, Wheels and Keels" festival in September. This popular venue is flocked to by antique planes, boat and car enthusiasts and features a fly in of many early aircraft. It is an exciting event to watch and one can just feel Snoopy, the Red Baron zooming overhead, and where aircraft enthusiasts can keep their planes and plan group fly- ins. Lessons and plane rides are offered daily.
The airport is open for fuel sales 24 hours a day, and has an attendant on duty daily. Please visit http://www.co.middlesex.va.us/Hummel.htm