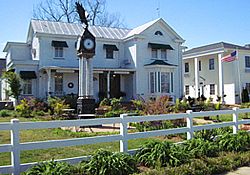 Looking for a great place to stay for enjoying a Chesapeake Bay weekend? Located in the heart of the Northern Neck of Virginia in Kilmarnock, at 34 East Church Street, the Kilmarnock Inn dished up a surprise for us when we walked through the front doors of the Wilson House for lunch last week. Built circa 1884, the first thing you see is a replica of the presidential seal, the same as in the Oval Office of the White House. Carried throughout the Inn and into its cottages is the presidential theme honoring eight Virginian born Presidents.
In addition to the main house (named for President Wilson) there are seven gorgeous cottages surrounding a beautifully landscaped courtyard. Each cottage is named for the remaining Virginia born presidents. Each room at Kilmarnock Inn is ensuite and each cottage has a deck or patio overlooking the courtyard. The courtyard is a perfect venue for private parties or events and is beautifully landscaped. 16 private rooms and elegant gourmet dining are offered by the warm and friendly innkeepers, Shawn and Sandy Donahue.
The Kilmarnock Inn is steps away from the enchanting and quaint downtown Main Street offering a variety of specialty shops and dining. Our lunch was wonderful and the conversation with Shawn Donahue even more so. We have heard that the Sunday brunch is divine, so we shall be back for more of the elegant atmosphere and pleasing menu of the Kilmarnock Inn.
Website: kilmarnockinn.com