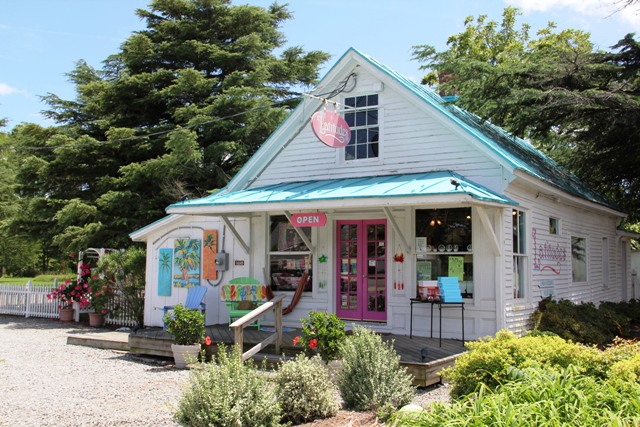 Whether you're visiting Deltaville for the day to scope out the area for a weekend retreat, checking out the marinas for a place to dock your boat for the summer, or are a part-time summer resident living on your boat, ask just about anyone you meet and they'll tell you how to find Latitudes. Situated on the corner of General Puller Highway and Fishing Bay Road, it is a quaint locally-owned boutique, colorfully decorated with the vibrant island colors reminiscent of the Caribbean.
Latitudes is a unique place to shop. Its colorful inviting façade beckons you in for a treasure hunt. The store is filled with whimsical items, nautical gifts, trinkets, decorative items for the home, collectibles and jewelry. You can also find original unique couture-styled clothing – where one can easily create their very own one-of-a-kind look. Latitudes also offers recognized brands which includes Brighton®, Tommy Bahama®, Kameleon®, mudpie®, Big Buddah®. As you meander through the shop you are sure to spot an item that delights, or just the right gift, accessory or treasured memory.
Owner Debbie Hall opened the store in 2001. Her passion for shopping was the impetus for opening Latitudes, and as the buzz grew about her discerning and fun style, she knew she had found her niche. She was expecting that her business would thrive during the summer season with the tourist trade. However, the store became popular year round and her busiest months are November and December.
I make it a point to stop several times a month especially when I am looking for a special gift for a client or an unusual gift for a friend or family member.
Before you leave, be sure to stop by the garden at the side of the store. In the summer months, the flowers are blooming and butterflies and hummingbirds are enjoying the array of nectar. The shopping experience is complete!
Neena Rodgers