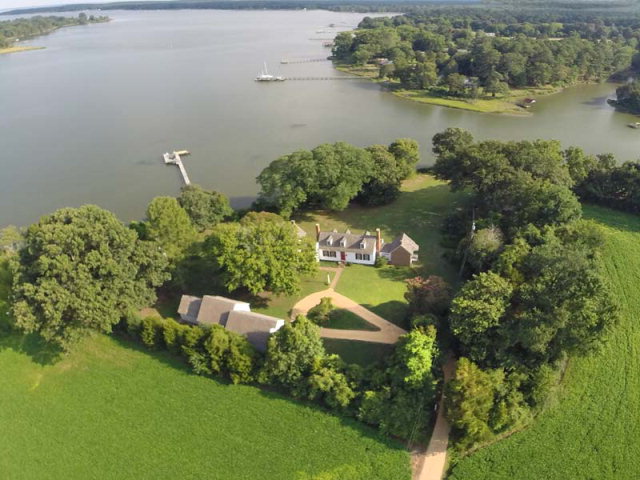 Mill Hill on Toddsbury Plantation in Gloucester, VA, sits on 2.23 acres on the North River with over 600 ft. of water frontage.
Mill Hill has an interesting history. Some historians say it could be one of the oldest timber frame houses around. Its history is entwined with the Historic Toddsbury Plantation, built in 1652 as it was the house of the miller of Toddsbury, who operated the tide mill there.
It has also been said that Mill Hill might have been the first house built on Toddsbury Plantation, which would date the house before 1652. However, there is no proof, so let's just call it a very old house, definitely early 18th century.
It was first restored in the 1960's by a direct descendant of the Todds. Then in the 1990's a historical renovator added the 2 additions and built the barn, garage, and workshop according to specifications of old colonial barns. The wonderful waterfront porch was also added and the charming guest house.
It is wonderful how all the historic features are still in place as the heart pine floors, the old fire places, many of the brass and iron fittings and locks, the quaint winding staircases, old paneling and ancient solid wood doors, some with lovely carvings.
Modern amenities blends so well into the historic flavor of Mill Hill as can be seen in the south east wing which was added. The inviting hall way, the kitchen fitted out with all modern appliances, but has a distinctly charming old look, so does the wonderful family room with its fire place and numerous windows with views over the grounds.
The historic main part of the house, with its many windows, wonderful light, and views over the grounds and waterfront, has a charming parlor, hallway, master bedroom, 2 of the cutest bedrooms with bath.
The south/west wing houses the bathroom, and utility room.
Stepping outside there is a delightful flowing garden with picket fence, and beyond a lawn with the stunning 600′ waterfront over the North River, with a deep water dock, boat house and even its own boat ramp.
The guesthouse, set romantically under huge trees, close to the water,
has 2 rooms, full kitchen and bathroom, and can accommodate 4 guests.
Mill Hill is a unique historic property, surrounded by Toddsbury plantation, which is under conservation easement and which ensures its privacy for perpetuity.