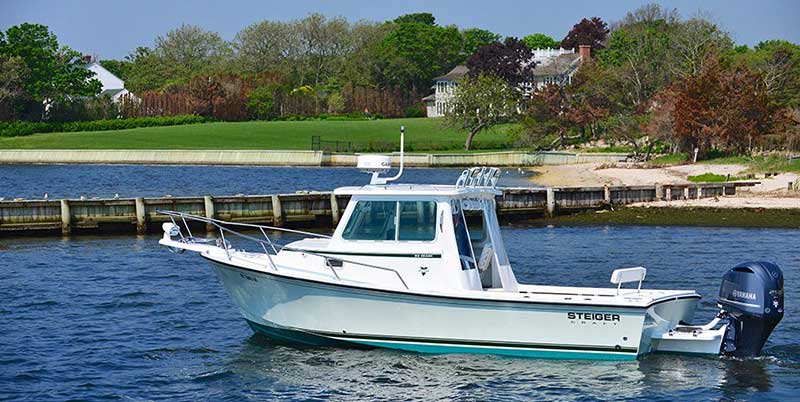 The coastal waters of Virginia's Middle Peninsula and Northern Neck provide one of the most favorable boating regions on the Chesapeake Bay. Offering both protected and open water adventures, the bay measures at its widest point here, 25 miles across, and even during the busy season the waterways feel uncrowded. A plethora of destinations, from quaint waterfront towns to secluded anchorages are within a four- to five-hour boat trip. Across to the Eastern Shore; up north to Tangier; up the Rappahannock River; or down into the Mobjack Bay, great fishing and fantastic sailing abound, plus excellent conditions for a variety of water sports, beachgoing and swimming.
So how does one go about finding the right boat to enjoy all this water? Attending a boat show is a great introduction. You'll see a variety of boats in a small span of time and be able to talk to many experts. But most people begin their search for a boat on the internet. When you're ready to get serious, it's time to find a broker. Much like a real estate agent's role in purchasing property, a boat broker is there to share his or her expertise, ask the right questions and work on your behalf.
Let The Search Begin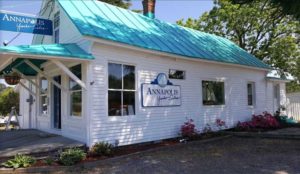 Our friends at Annapolis Yacht Sales in Deltaville, Virginia, brokers Anne and Jonathan Hutchings, happen to know a lot about boats. As life-long boaters and experienced cruisers, their goal is to share their knowledge and passion for the water and help make nautical dreams come true, whether sail or power, new or pre-owned.
They begin by asking the buyer what the boat will be used for. Primarily for fishing? Extended cruising or shorter day trips? How many passengers will the boat need to accommodate? Will you be operating the boat single-hand or are helpers available? Are both partners in a couple comfortable with hands-on deck involvement? Hindsight is always perfect, so carefully considering these variables and more will result in a decision without regrets.
Boat handling has become easier with some of the newer technology, making it easier to single-hand larger boats."
—Jonathan Hutchings
"We see people who buy boats thinking they will have their children and grandchildren on board and it turns out those occasions are more infrequent than anticipated. Be honest about the use, think it through," says Jonathan. Anne recommends the 80/20 rule, adding "Ask yourself what are you going to be doing 80 percent of the time? Because the remaining 20 percent of the time you can compensate." For some, owning more than one boat is the right solution. A small runabout for zipping around or fishing, and a larger boat for family gatherings and cruising.
Where Will The Boat Be Docked?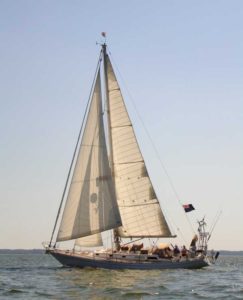 If the buyer plans on keeping the boat at their waterfront property, the water depth at low tide will determine the size limitation of the boat. Also important is the nature of that water. Is it a protected cove or open bay water where the wind and wave action will be heavier? If the latter, the boat will need to be stored on a lift to protect it from getting damaged. Sailboats are seldom stored on lifts. The minimum depth requirement for a sailboat starts at around three feet, and for smaller power boats one to two feet. Generally, the bigger the boat, the more water depth you need to dock or operate your boat.
Keeping your boat at a marina instead of at your own dock can make for a different experience altogether. Marinas offer a rich array of social opportunities, such as cruising clubs, regattas, potluck gatherings and holiday celebrations. Keep in mind, the closer you are to your boat, the more you will use it.
Brand New vs. Pre-Owned Boats
Whether to purchase a brand new boat or a pre-owned boat is purely a matter of personal preference. Brand new boats come with a lot of support from the dealer and manufacturer, including a warranty. On the other hand, gently used boats usually offer good value. If you are the handy type, or are willing to fund repairs or a refit, boats in the fixer-upper category (circa 1980s) are plentiful and their pricing reflects their condition.
Size, Features and Price Tag
For safe, comfortable boating in typical conditions on the bay, Anne and Jonathan recommend a boat with a minimum length of 22 feet. A popular feature available on power boats is a center console or cuddy cabin, allowing for maximum use of the perimeter of the deck for fishing or lounging. A cuddy cabin is an enclosed space and provides shelter from the elements.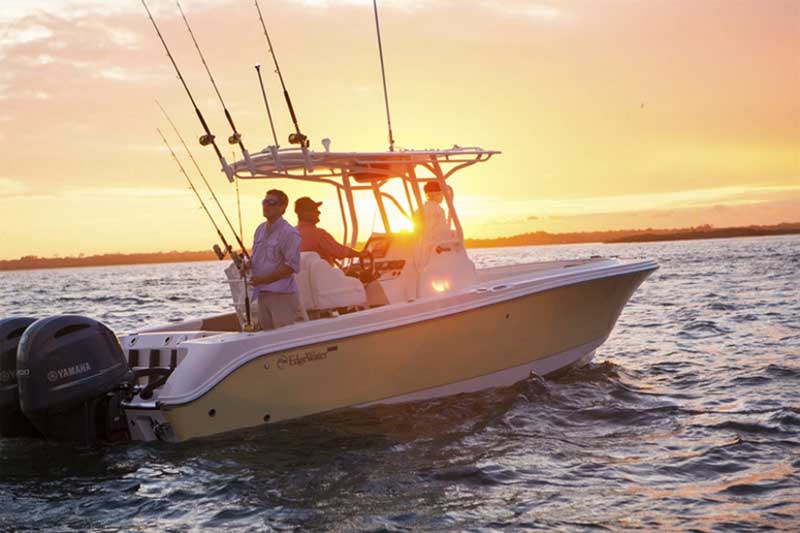 As far as pricing goes, a new entry level 22-foot power boat with center console, basic electronics, including a trailer might start around $60,000. A well-maintained pre-owned boat with the same features, and about ten years use on it, should be about $30,000. A new 30-foot power cruiser with more sophisticated features and electronics will be in the $200,000 plus range. Sailboats that are suited to day-sailing and weekending on the bay would be in the $225,000 range for a new 35-foot boat ready to sail. A larger 45-foot cruiser or sailboat with more accommodations and suited to long distance or offshore work would start at about $450,000. Remember that older boats require more maintenance and while many owners perform maintenance and repairs themselves, there are plenty of boatyards and mechanics in the area offering these services.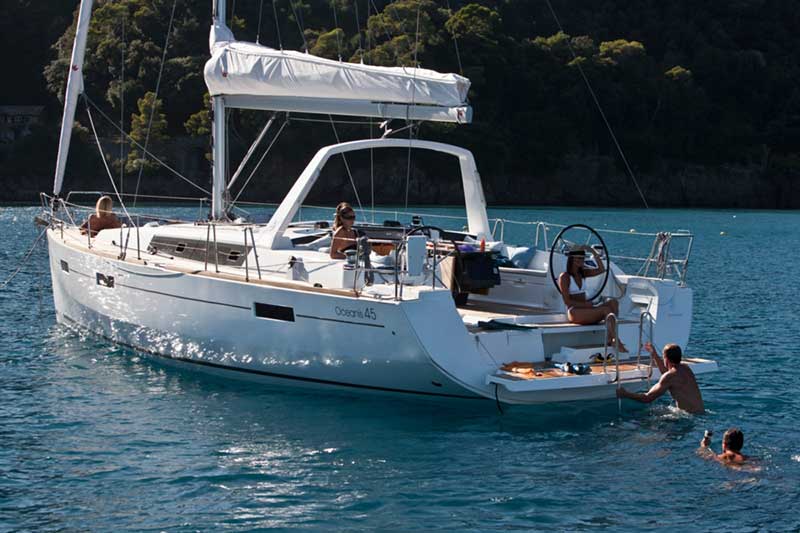 The Pre-Owned Boat Buying Process
After finding the right boat and agreeing on a price, the next step is to arrange for a boat survey. The Hutchings always recommend a survey on a pre-owned boat, and financing and insurance companies usually require a survey. The buyer chooses the surveyor and pays for the service. It's common to interview several before making the hire. The surveyor is working for the buyer, not the broker or the seller, and will conduct a thorough inspection of the hull and structures as well as the boat's systems. Local surveyors usually charge around $20 per foot and a boatyard around $8 per foot to launch and haul for a sea trial. The sea trial ensures that the systems on the boat are in proper working order. Once the survey report is complete, the buyer decides whether to proceed with the purchase according to the report. If problems are discovered, the buyer might renegotiate the price or choose to cancel the purchase.
Safety, Learning, Registration and Taxes
In Virginia, all operators of personal watercraft (such as jet skis) age 14 and older, and all operators (regardless of age) of motorboats with a 10 horsepower or greater engine, are required to take a boating safety course. Upon completion of the course, a card will be issued, which is good for life, and must be carried on board when operating a boat or personal watercraft. There area plenty of good boating schools located in the Chesapeake Bay region where you can increase your boat handling skills, learn navigation or learn to sail.
Virginia boat registration and titling information and forms can be found online or from hunting and fishing license agents, most marine dealers and at all DMV offices. Many waterfront municipalities have eliminated personal property taxes on recreational boats and watercraft in recent years in an effort to attract more people to boating. Check with your county's commissioner of the revenue office for your local tax policies.
Join the Tribe
As a boater you're part of a community of people who share your love of the water, the outdoors and having fun. Whether you are new to boating or an old salt, the magic of the Chesapeake Bay and its rivers and inlets will give you boundless opportunities to fish, sail, cruise, drift and dream.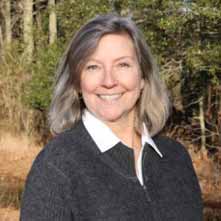 Written by Carolyn August for Rodgers & Burton –
Carolyn is a writer and designer who has been working in the communications field for over 25 years. She will take on any topic to research and write about, and especially enjoys taking complex subjects and making them easy to understand. Often called a "renaissance woman" by her friends and colleagues, her many creative passions include writing, ceramic arts, music, fiber arts, gardening and winemaking. She and her husband share their Virginia farmhouse with two dogs, one cat and a pair of bald eagles who nest in their woods. When not creating, Carolyn prefers to be paddling on the waters of the Chesapeake Bay.