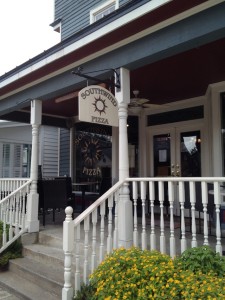 One of the most popular restaurants in the Middle Peninsula is Southwind Pizza, located opposite the historic Courthouse of Mathews, VA. It is open on Wednesdays at 4PM-8PM, and Thursdays-Saturday 11:30AM to 8PM.
Owners Dia and Ned Lawless both have masters' degrees. They have lived in Mathews for over 20 years, and were tired of commuting to their respective jobs.
They decided to open a restaurant together with a special approach. It had to be a venue, where people would be happy to meet, mix, talk, eat, and listen to live music. Ned has always been drawn to food and cooking and Dia had worked in her mother's restaurants.
Their combined vision resulted in Southwind Pizza, which opened in 2001. It has a casual friendly atmosphere where everyone can feel welcome. The food is fresh, chemical free and mostly locally sourced (including 8 handcrafted beers) and made from scratch. On Thursday evenings local musicians drop in to jam and on Saturdays, bands are invited to perform after the dinner dishes have been cleared.
Their popularity continues and has been reviewed nationally. Every review on Trip Advisor and Yelp is positive and enthusiastic. Every item on the menu is wonderful: the pizzas made in the hearth oven, the sandwiches are served on fresh baked breads, as are the salads. And don't forget dessert, also homemade. The place is usually packed, so my advice is to get there early, grab a seat and experience the food, atmosphere and music!
Southwind is located in a former historic old general store building, which opened in 1921, at 44 Church Street, Mathews, VA 23109. They can be reached at (804) 725-2766.