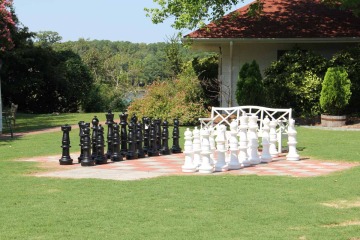 The Tides Inn and Resort is 'a luxurious retreat'.   A unique treasure of Virginia's Northern Neck region nestled on a private peninsula on Carter's Creek, The Tide's Inn resort enjoys scenic panoramic views and has been a destination point for many visitors for over 60 years. If you plan to come by boat to the marina, you're just off the Rappahannock River, and just a few minutes to the Chesapeake Bay.
With a modest 106 rooms, the suites are spacious and most have private patios or balconies. There are many amenities to enjoy including a luxurious spa, a private pool, and marina.   In the center courtyard, a larger than life chess board is an unexpected surprise and definitely a chance for a fun family photo.
To start the day off right – visit The Spa at the Tides Inn.  They carry a line of wonderful skin care products used in their facials, and you're in for a marvelous relaxing experience.
There are a number of activities to suit everyone's interests . A variety of river cruises are available on a classic Chesapeake Bay deadrise boat. One-hour "couples" cruises, lunch and dinner cruises, extended cruises to the historic town of Urbanna for a day of shopping and site seeing, as well as cruises to Sandy Point, Mosquito Island and even a full day cruise is available to Tangier Island.
For those with children, the Inn even offers childrens' activities for ages 4-12, with weekly themes to keep the little ones interested and engaged during their stay.
The Tides Inn is a pet friendly facility.  The rules are simple – guests are expected to be respectful and mindful of other guests, and they charge a modest fee for your pet.  Pets will enjoy a full complement of amenities just for them while vacationing with you, including pet sitting services and grooming services.
The Tides Inn
480 King Carter Drive, Irvington, VA  22480
804-438-5000   www.TidesInn.com