Irvington is a charming village nestled on the shore where Carter's Creek flows into the Rappahannock River barely 12 miles north of the Chesapeake Bay. With just over 600 residents, it offers an incredible array of activities to attract visitors of all ages to this region. Spend an afternoon spotting osprey along Carter's Creek; stay at one of two nationally recognized inns; play golf on a championship golf course; shop in a farmer's market; discover the significance of the steamboat; cruise the Rappahannock River shoreline or bike to a dog-friendly winery. Whether an afternoon, a weekend, or longer, you'll find plenty to do during your stay.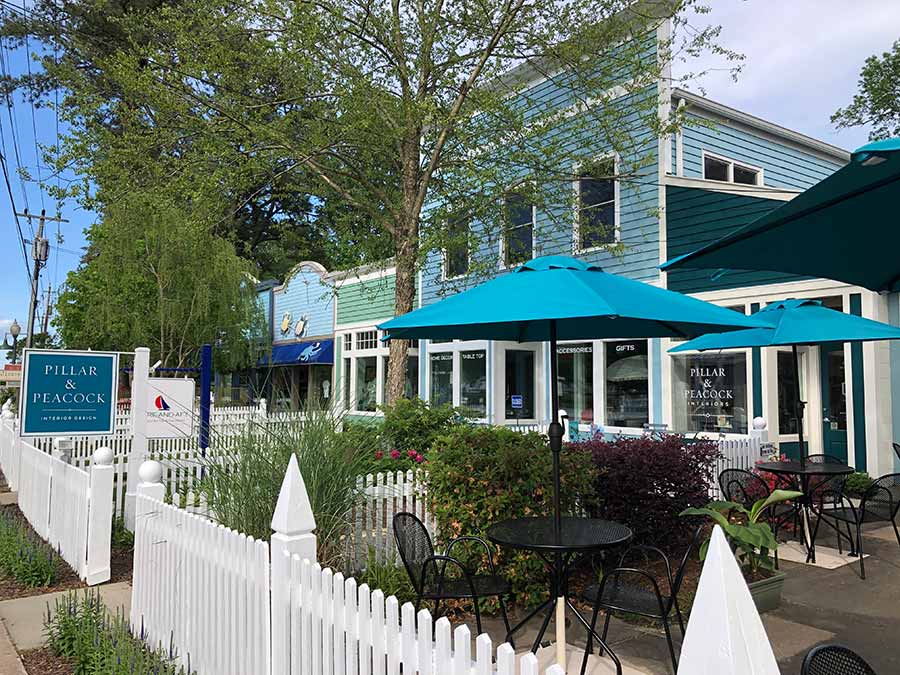 An easy drive from the metropolitan areas of Northern Virginia, Richmond, Hampton Roads and Williamsburg, this section of Virginia is known as the "Northern Neck" because it's the northernmost of three peninsulas (called "necks") on the western shore of the Chesapeake Bay – with the Potomac River to the north and the Rappahannock River to the south. With three of our presidents born in this region (George Washington, James Madison and James Monroe), you'll find historic landmarks to explore as well as plenty of outdoor activities to fill your time.
Tides Inn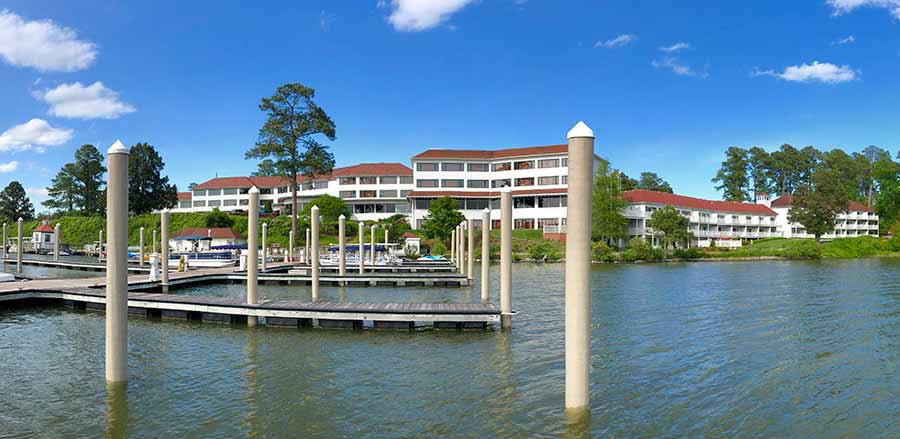 An historic, waterfront resort situated on a bluff overlooking Carters Creek, the Tides Inn has attracted guests to its manicured grounds and spectacular scenery since 1947. Recognized as one of the top inns in the mid-Atlantic region, it's been named one of the "Top Resorts in the Continental U.S." by Travel + Leisure magazine and the "#4 Best Virginia Resort" by U.S. News & World Report. While closed this past winter, the lobby was updated in nautical blues and yellows, new furnishings added to enhance the common room and a casual eatery (named Fish Hawk) replaces the old poolside restaurant. This pet-friendly retreat offers 106 guest rooms and suites, a 60-slip marina, a full-service spa, tennis, boat rentals, fishing, complimentary bikes, a nine-hole par-3 golf course on-site, and the 18-hole Golden Eagle Golf Course nearby. This is also the perfect spot for anyone simply desiring a scenic waterfront destination to sip a cocktail or enjoy a meal on a sunny afternoon.
Steamboat Era Museum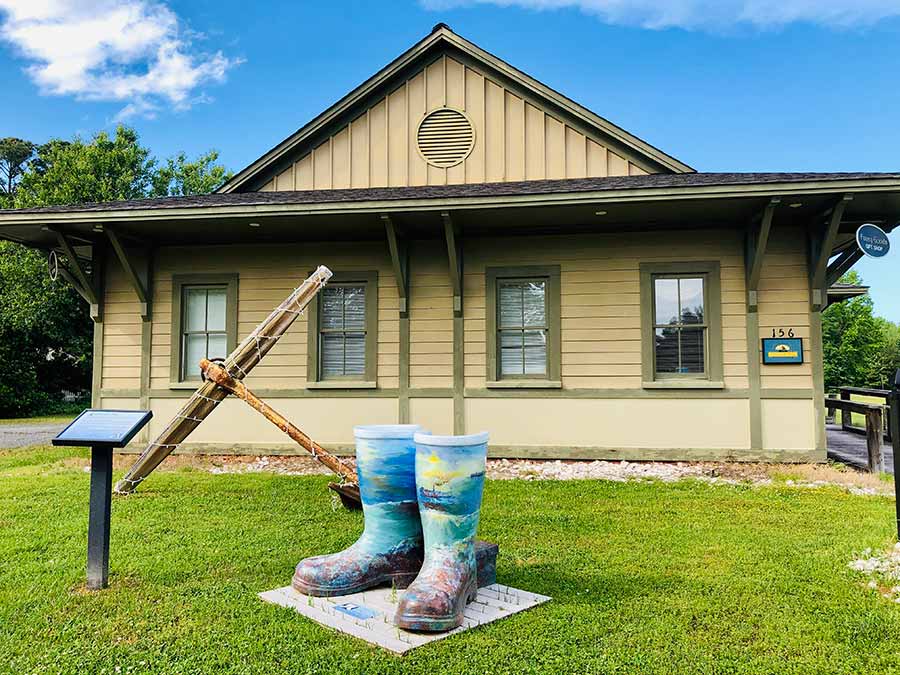 The Steamboat Era Museum takes you back to the 19th and 20th centuries when area waterways were the highways and steamboats provided the transportation. It was the steamboat that transformed the Northern Neck from a remote area cut off from the outside world to a region where public wharves were effectively turned into shopping centers. This museum brings these stories to life through films, artifacts, photos and models of the boats and wharfs. Please be aware that the museum will be dusty as they prepare for the fall 2019 arrival of the Potomac pilothouse. This pilothouse is the last remaining known structure of its kind from a Chesapeake Bay steamboat and in 2015 was chosen as one of Virginia's 10 Most Endangered Artifacts. The museum is open June 11 through November 16, Tuesday through Saturday, from 10 am to 4 pm. Admission is $5 for adults and free for children under 12 and active duty military.
Hope & Glory Inn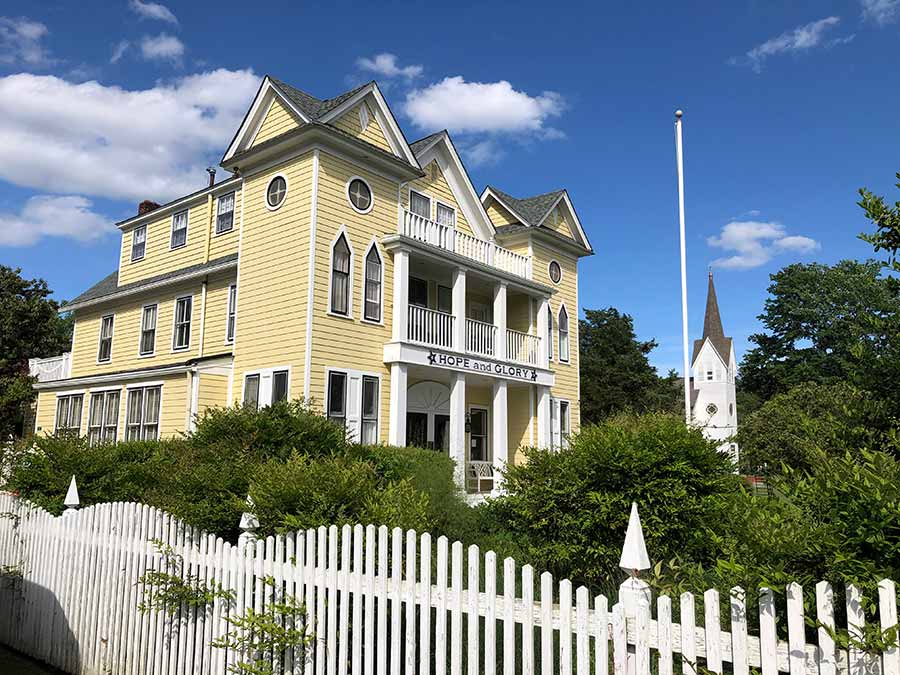 The Hope & Glory Inn, formerly a schoolhouse built in 1890, is a top-rated inn that has been selected by Coastal Living as one of their "Top Ten Coastal Inns in the US" and by Southern Living as one of its four "Favorite Romantic Getaways". Once you've passed through the white picket fence that encircles a gorgeous garden, you'll find yourself inside a creative, schoolhouse-themed retreat where the bar is called Detention, the spa is Recess, and the restaurant is the Dining Hall. ​ You can choose from six rooms in the schoolhouse as well as six luxurious garden cottages. But you don't need to stay overnight to experience dinner here. Whether an overnight guest or a local, this is the place to go if you're looking for an upscale, fine-dining experience. Manager and Executive Chef Meseret Crockett, a native of Ethiopia, is known by the producers of the Food Network and has hosted them for her inspired, "boat to table" dinners. The cost for this prix fixe, three-course dinner (including a bottle of wine) is $78 per person plus taxes and a 20% gratuity. Seating is limited to 20 guests since your table is yours for the evening. For reservations, email inquiries@hopeandglory.com or call 804-438-6053.
Historic Christ Church & Museum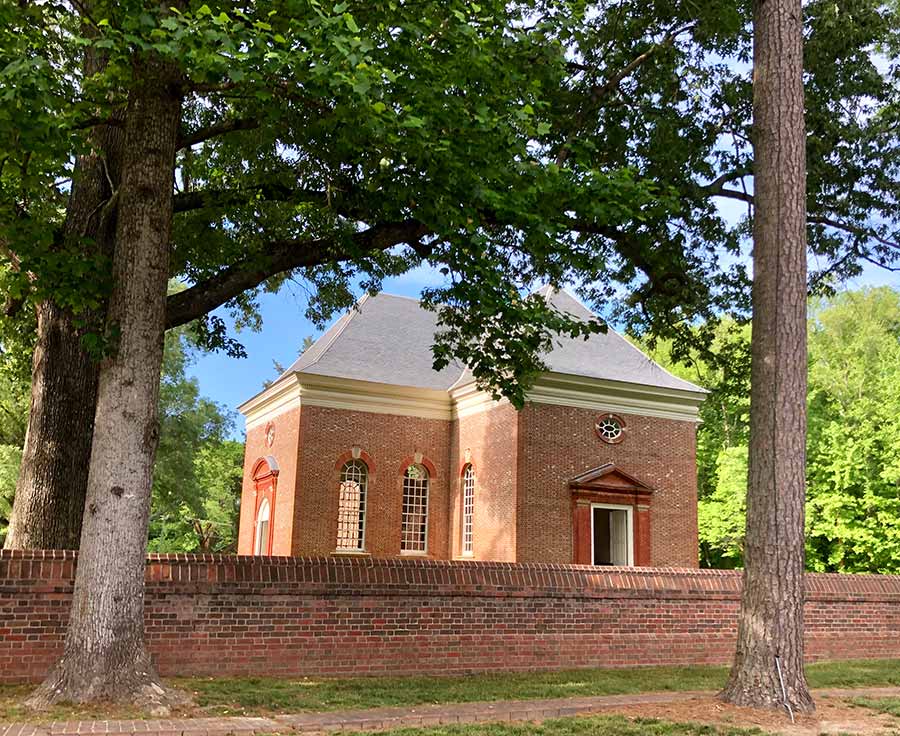 Are you interested in walking through a National Historic Landmark that has fundamentally remained unchanged for almost 300 years? The Historic Christ Church & Museum lets you and your family do exactly that. Begun by Robert "King" Carter in 1730 to replace a wooden church built by his father. It was finished by his sons in 1735 and is one of the best-preserved colonial churches in the southern United States. The museum allows you to go back in time and explore our colonial past through interactive touch-screen displays, artifacts, treasured objects and Native American tools and ceramics found on the site. Operating hours vary by season.
Dog & Oyster Vineyard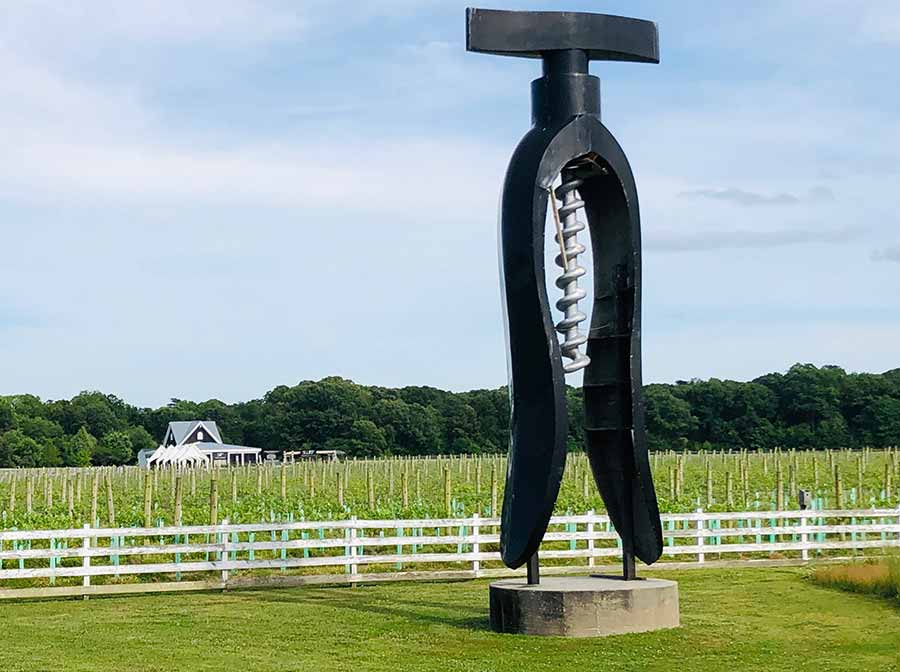 With two, 40-foot corkscrews marking the entrance, there's no way you can miss the turn for the dog-friendly Dog & Oyster Vineyard. Its name acknowledges the rescue dogs that keep the grapes from being eaten by local deer while also recognizing the importance of the Virginia oyster to this region. Whether you drive, walk or bike the ½ mile from town, this is the only vineyard in the U.S. with wines that were crafted to be paired with oysters. There are four varieties of grapes grown on their 6 acres – Chardonel and Vidal Blanc for their white wines and Chambourcin and Merlot for their reds. From April through October, they are open every day from 11:00 a.m. to 5:00p.m. During the fall and winter, their hours will vary.
Carter's Creek and Rappahannock Cruises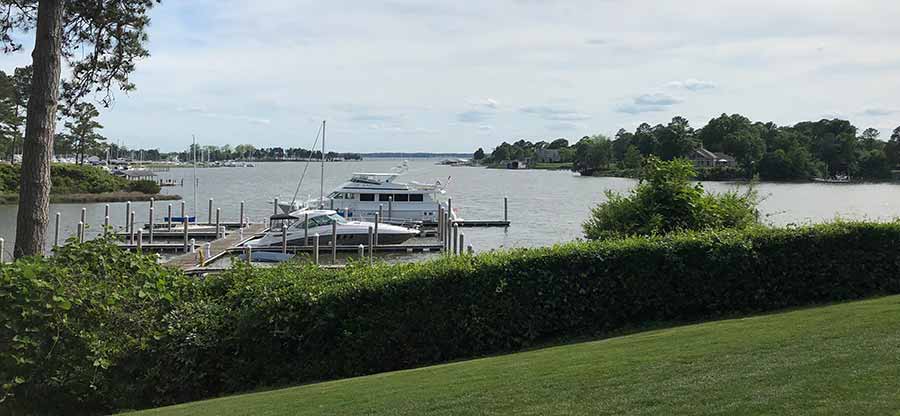 Even if you don't own a boat, there are still opportunities available for exploring the outstanding scenery and wildlife found along Carter's Creek and the Rappahannock River by water. One option is to build your own Watermen's Heritage Tour that departs from the Tides Inn and is customized to your interests. From crabbing to a scenic wildlife excursion, these outings typically range between $250-$450 for 2-4 hours. Another choice is the Owners Cruise aboard True Love. This hour-long trip lets you sample the coves of Carter's Creek as well as a section of the Rappahannock. There are two scheduled cruises each Saturday – one at 4:00 pm and the other at 5:15 p.m. The cost is $50 per person (with a minimum of 4 and a maximum of 6 passengers). For reservations, email inquiries@hopeandglory.com or call 804-438-6053.
Golf
Hidden on 400 acres of tranquil woodland just 2 miles from downtown Irvington, the Golden Eagle Golf Club offers an escape from the fast pace of the outside world. Designed by George Cobb, creator of the par-3 course at Augusta National where the Masters Tournament is held, these 18 holes will challenge golfers of every skill level. At the center of this well-groomed course is a clubhouse that includes a pro shop and grill. Call 804-438-4460 to schedule your tee time.
Virginia Oyster Academy
If you've ever wanted to learn how to harvest and prepare your own oysters, this is your chance. You'll begin your session with a brief lecture on the ecology, history, and tools used to harvest Virginia oysters. Then, you'll join a local waterman for an hour on the Rappahannock River to collect your own. After the trip, a chef will show you how to shuck and then pair your oysters with various sauces and wine. These sessions take place every Wednesday, Friday, and Saturday during the fall season at the Tides Inn. The cost is $185 per person with parties of six receiving a discount price of $155 per person. To register, call 804-438-4489 or email: Activities@tidesinn.com.
Irvington Farmers Market
Voted the Best Farmer's Market in Eastern Virginia by Virginia Living magazine, you'll find local musicians playing for free in the gazebo while more than 100 vendors sell art, seafood, artisanal cheeses, baked goods, plants, jewelry, glassware, handcrafted items and more in an open-air marketplace on the first Saturday of the month from May through November, 9:00 a.m. to 1:00 p.m.
---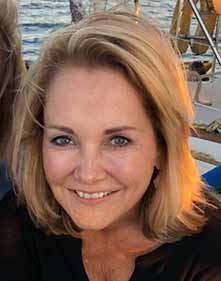 Written by Pat Rabb Zulick for Rodgers & Burton – Pat is a graduate of Simmons College with a BA in Communications / Public Relations. Her more than 35-year career in Northern Virginia included 25 years in technology with IBM / Siemens as a Software Designer, Engineer / Developer and Senior Instructor for Sales and Systems Engineering. Her remaining 10 years were devoted to alumni relations work at George Mason University and lastly at American University. Since moving to Deltaville in 2015 and retiring in 2017, Pat enjoys working out and volunteering as a board member for the Deltaville Maritime Museum. She is also an avid member of the Tidewater Oyster Gardeners Association where she volunteers at fairs to encourage oyster gardening and aquaculture to help clean the Chesapeake Bay.