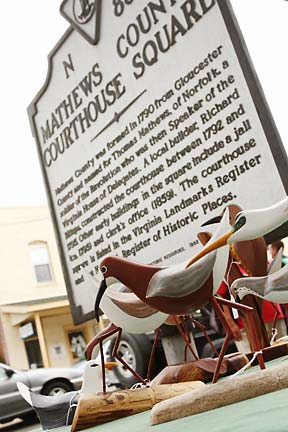 Mathews County is perhaps best known for its 214 miles of water front , and its prominent location on the Chesapeake Bay. Surrounded almost completely by water, it is bordered by Middlesex County to the North and separated by the Piankatank River and Gloucester County to the West. The Southern, SE, and SW sides of the county border on the Chesapeake and Mobjack Bays. With its 252 sq miles of which 66% consists of water, it is land wise the smallest county of Virginia.
Mathews County is one of the few counties in Virginia without a traffic signal. It has around 9000 inhabitants, 10% living in Mathews Courthouse. Tourism, leisure, and fishing industries are the major sources of employment. Its first inhabitants were the Chiskiake Indians and many Indian artifacts can still be found. Mathews was populated around the early 1600s by the English and was part of Gloucester County until Mathews County was established in 1791, named after a Revolutionary war hero, General Thomas Mathews.
In those days Mathews was waterman's country, known for its ship building and fishing. There were a few estates, but basically there was too little land for any large plantations. Downtown Mathews still retains much of its late 18th-early 20th C flavor and the folks still treat you like family. The old Fish Market is now the home of Mathews Art Gallery, Richardson's Drugstore houses Richardson's Restaurant, the Bank is now Mathews Library, winning the prize of the best rural library in the US, and Sibley's General Store has a new use: the Visitors Centre.
Noteworthy is that a sizeable artist and artisan community settled in Mathews in the mid 1900's, attracted by the rural and scenic setting. Local artists are actively represented at the Mathews Art Group and the Bay School of Arts, both located on Main Street. Mathews is also the home of Donk's Theatre, an amazing old-fashioned live country music show. Mathews County hosts the annual Tour De Chesapeake. This bicycling event is a benefit for the Chesapeake Bay Foundation.
Official Mathews County Website: www.co.mathews.va.us
Mathews County Tourist Information: Visit Mathews
Mathews County is located on Virginia's Middle Peninsula.