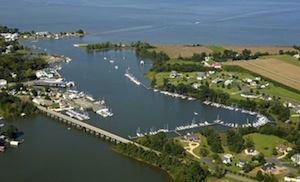 Nestled on the shores of the Rappahannock River, historic Urbanna has a wonderfully charming historic small -town atmosphere. It was established by an Act of Assembly at Jamestown in 1680 in an effort by the English to establish towns, centers of commerce and appropriate locations for custom houses to regulate a growing tobacco trade in the Virginia colony.
Urbanna is one of the nation's oldest towns and with a land mass of less than half a square mile, it's also one of its smallest. Located on a sheltered, deep-water creek, Urbanna's history, economy, its ecology and culture ebb and flow with the waters that surround her. Throughout the town's history, Urbanna Creek's deep-water harbor has fueled the local economy. The town was named Urbanna in 1704 for Queen Anne of England. The community flourished in the mid-1700s and was made the county seat of Middlesex in 1748. In the mid 20th century the Rappahannock River oyster trade filled the pockets of its citizens.

Urbanna is known statewide for the Urbanna Oyster Festival, a tribute to the history and impact the Rappahannock River oyster made on the community and the local economy. The festival is the "official oyster festival" of the State of Virginia and is held on the first Friday and Saturday in November.

Urbanna, VA is located on Virginia's Middle Peninsula.