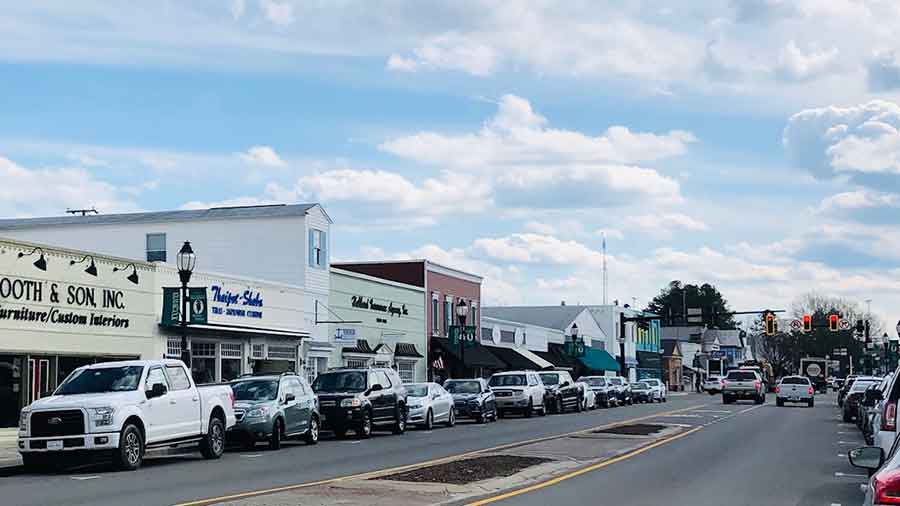 Due to the diversity of activities available year-round, the towns of White Stone and Kilmarnock are popular with locals, recent transplants as well as tourists alike. Situated on the southern end of the Northern Neck, these communities (along with Irvington) form an area that is also one of Virginia's most affluent retirement communities.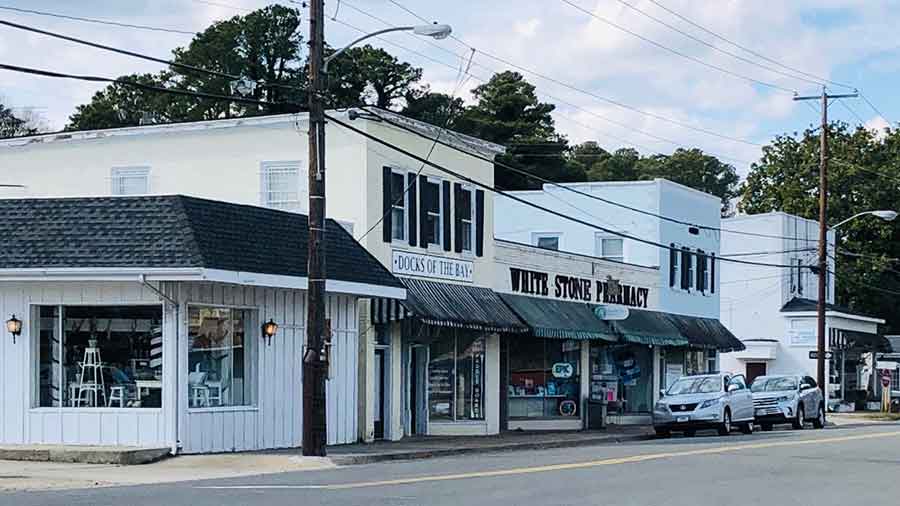 White Stone is a small, rural town with about 350 residents, located along the lower portion of Lancaster County where the Rappahannock River opens into the Chesapeake Bay. Whether interested in viewing local art, dining on fresh seafood or appreciating coastal sunsets, you'll find all this and more while visiting this charming, bay hamlet.
Kilmarnock is a larger community with approximately 1,400 citizens that spans the counties of Lancaster and Northumberland. It includes a lively Main Street that provides a combination of small-town charm mixed with urban style. Offering a picturesque winery, a lively concert series, notable boutiques, a craft brewery, as well as exceptional dining options, it's perfect for a weekend getaway, a reunion with family or an outing with friends.
Hughlett Point Natural Area Preserve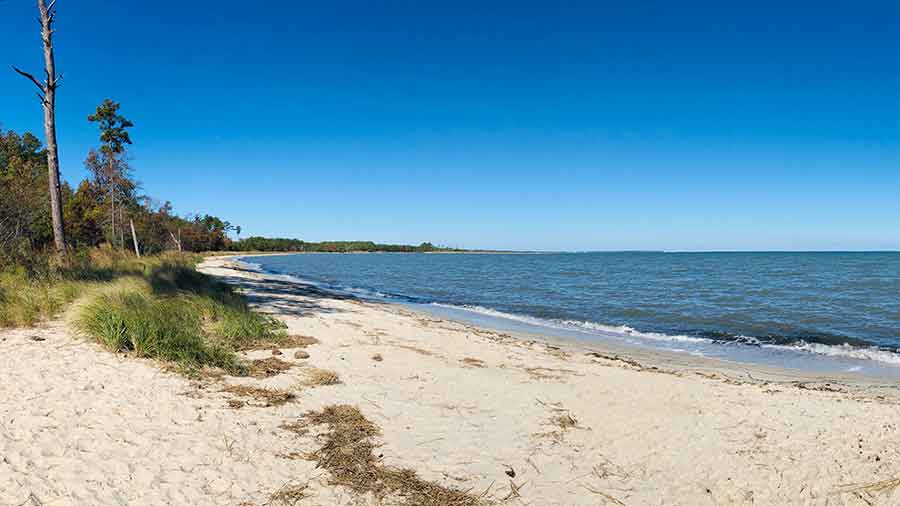 About 9 miles northeast of downtown Kilmarnock, Hughlett Point Natural Area Preserve is a 204-acre hidden treasure on land donated by the DuPont family in Northumberland county. Take a stroll on an easy 1.8-mile (out and back) trail that starts on a boardwalk and leads through a pine forest and wetlands to a natural beach. The initial beach access begins less than ¼ mile from the parking lot and offers a scenic spot for lunch and a leisurely walk along the shoreline with a chance to see eagles, osprey as well as smaller migrating birds. Continue further down the wooded trail for additional picturesque views of the areas coastal landscape.
Good Luck Cellars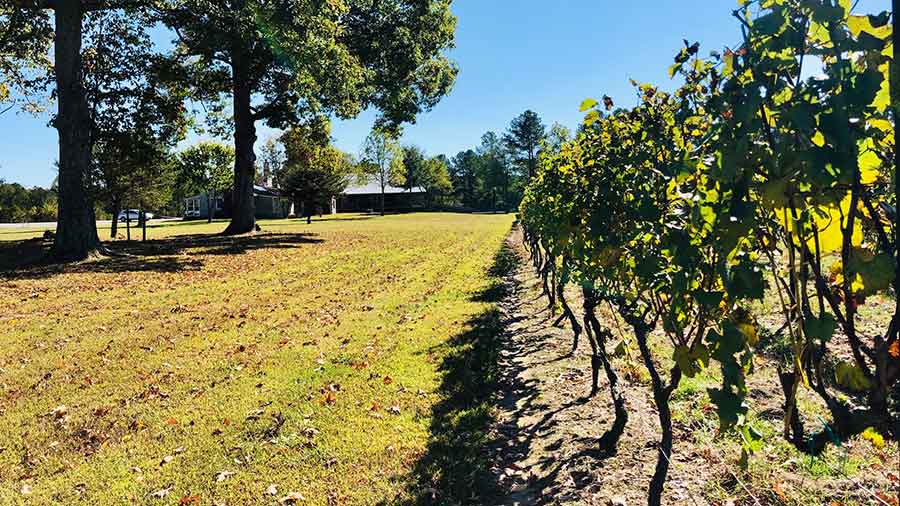 Looking for a pleasant way to pass an easy afternoon with family or friends over a glass of wine on a wide veranda that over-looks almost 25 acres of vines? Then, stop by Good Luck Cellars for a tasting and perhaps a picnic on the lawn. If you visit them on a Friday evening between 5-8pm for "Wine Down Friday", you'll probably be treated to live music, dancing, and oyster tacos or other cuisine from a local food truck like Byrd's Seafood.
Kilmarnock Museum
Located in the oldest building in town, relish an afternoon in this enchanting museum and learn the intriguing history of the notorious Kilmarnock fires, the building of the Norris bridge and this town's connection with its sister-city in Kilmarnock, Scotland. The museum is open from March through November, Tuesday – Saturday, 11am-4pm. Admission is free.
Town Center Park
For those with youngsters or pets needing to burn off some energy, you'll appreciate this 9-acre park along Main Street in Kilmarnock. It offers a nature-themed playground that includes slides and swings along with boulders and logs to climb on. It also boasts the areas only water feature for children to enjoy on a warm summer day (May-September). You can also bring your dog to Scottie Yard dog park to enjoy an off-leash play area with two entrances based upon your dog's size. The Park is open from dawn to dusk.
Kilmarnock Brewhaus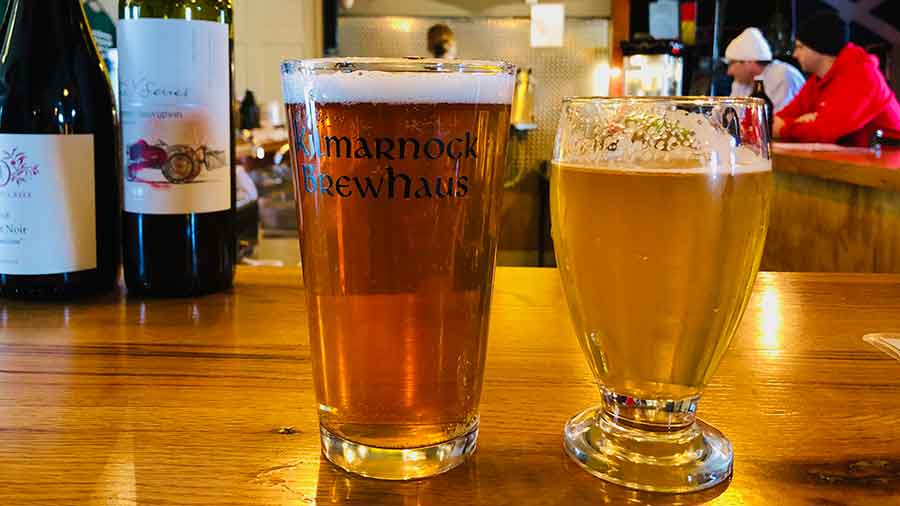 Stop by this Brewhaus to sample unique beer options like "Back in Blackberry Pilsner" or their traditional "Edelweiss IPA" while dining on local oysters, crabs, pizza or a hot pretzel. If you enjoy live music, they offer Open Mic nights on Wednesdays, Blues night on Thursdays, Bands on Fridays and Saturdays, and acoustic music on Sundays.
Art Centers
This region offers asurprisingly lively set of options for artists to congregate, create, and exhibit. The Allure Art Center in White Stone features regular exhibitions by local artists as well as openings, performances, classes and artist networking events. They also offer room for working artist studios, classrooms and office spaces. The Rappahannock Art League Art Center in Kilmarnock also showcases artwork created by local artists as well as events and workshops throughout the year.
Concert Series and Dance Party
Are you interested in an outdoor concert or a dance party under the stars? Then grab a blanket or lawn chair and come to the amphitheater at Town Center Park for the "Music on the Half Shell Stage" concert series, May to October, and the Beach Music Dance Party in June. The Half Shell concerts provide a night of music highlighting local musicians playing everything from classic rock and country to Motown and reggae. The Dance Party offers a night of beach music and dance demonstrations that will get you on your feet and dancing the night away! Review the concert schedule and dance party ticket information for more details.
Waterfowl Show
For more than 35 years, tourists crowd White Stone on the third weekend in March for the Rappahannock River Waterfowl Show. This event highlights wildfowl art including original paintings, decorative carvings, sculpture, taxidermy, decoys, photography, prints and jewelry. There is a preview gala on the Friday evening of that weekend with tickets sold for $60 per person. It has earned the distinction of being a "Top 20 Event in the Southeast" by the Southeast Tourism Society and is the major annual fundraiser for the town's fire department.
Kilmarnock Farmers Market
On the 4th Saturday of each month (from May until October), head down north Main Street to Town Center Park for a traditional farm/bay to table market that emphases local vendors selling regional seafood, produce, meat, bakery items, and more. It's held under the pavilion in the center of the park.
Christmas Parade
The Kilmarnock Lighted Christmas Parade is the oldest lighted holiday parade in Virginia with 2020 marking its 42nd year. On the second Friday in December, Santa meets with children at the local volunteer fire department from 5:30 to 6:30 PM and then the parade commences down Main Street at 7pm with floats, marching bands, fire trucks, dancers and old St. Nick at the end of the procession. This event is free.
Dining in Kilmarnock
With so many restaurants in town, it will be hard to choose where to eat. You might want to start with a breakfast of Chesapeake Bay eggs benedict at the Car Wash Café or pancakes and other country cooking at Lee's Restaurant. For lunch, you could dine on fresh sushi, authentic Thai food or fresh seafood at Chao Phraya or order a classic cheeseburger and milk shake at NN Burger. Dinner choices include the restaurants mentioned above as well as establishments like the historic Kilmarnock Inn where you might dine on their signature crab cake, filet mignon or chicken parmesan. The Inn is also well-known for their Sunday brunch. Be sure to save room for a dessert of soft serve ice cream, a sundae or banana split at Steve's Ice Cream.
Dining in White Stone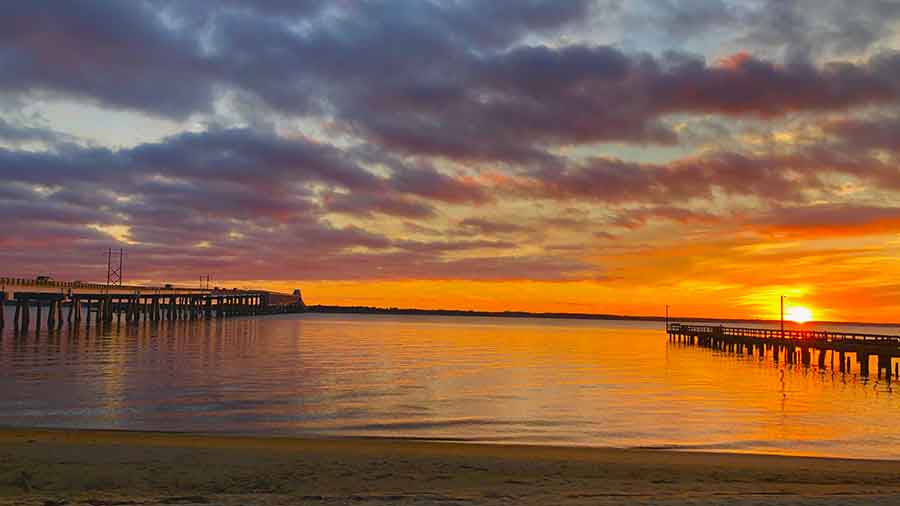 Don't drive by Out of the Oven Bakery in the middle of White Stone if you're hungry for breakfast or dessert. There you'll find owners, Marie and Cedrick Sanders. Marie is a classically trained baker who was formerly the pastry chef at the Tides Inn. She has also baked for three former presidents as well as several well-known celebrities while employed at other nationally renowned hotels. After gazing at all the options, you might decide to purchase a cup of coffee and a sticky bun, donut or croissant for breakfast and also take home a cheesecake, key lime pie, cake or chocolate éclairs for an evening dessert. The friendly welcome you'll receive and the incredible baked goods will bring you back time and again. For lunch on Thursday through Sunday, stop by Miss Mary's Seafood to select from a menu that ranges from fried oysters to rainbow trout and a traditional fish chowder. Be sure to take home some fresh seafood for dinner with selections like tuna, lobster, oysters, shrimp, scallops and more. Another choice for lunch or dinner is a takeout meal from The River Market with homemade soups and salads, seafood dinners and their famous fried chicken on Sundays. For a sit-down dinner, go to Adrift and choose from items that run the gamut from baked oysters or scallops to a dry-aged ribeye or a mushroom risotto. You could also round out the evening on Willaby's deck or at one of their beachfront picnic tables to watch an incredible sunset over the Rappahannock River. They are open for lunch, dinner and Sunday brunch.
---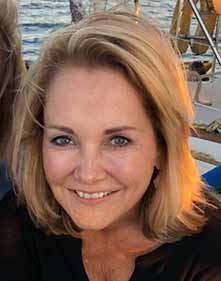 Written by Pat Rabb Zulick for Rodgers & Burton – Pat is a graduate of Simmons College with a BA in Communications / Public Relations. Her more than 35-year career in Northern Virginia included 25 years in technology with IBM / Siemens as a Software Designer, Engineer / Developer and Senior Instructor for Sales and Systems Engineering. Her remaining 10 years were devoted to alumni relations work at George Mason University and lastly at American University. Since moving to Deltaville in 2015 and retiring in 2017, Pat enjoys working out and volunteering as a board member for the Deltaville Maritime Museum. She is also an avid member of the Tidewater Oyster Gardeners Association where she volunteers at fairs to encourage oyster gardening and aquaculture to help clean the Chesapeake Bay.